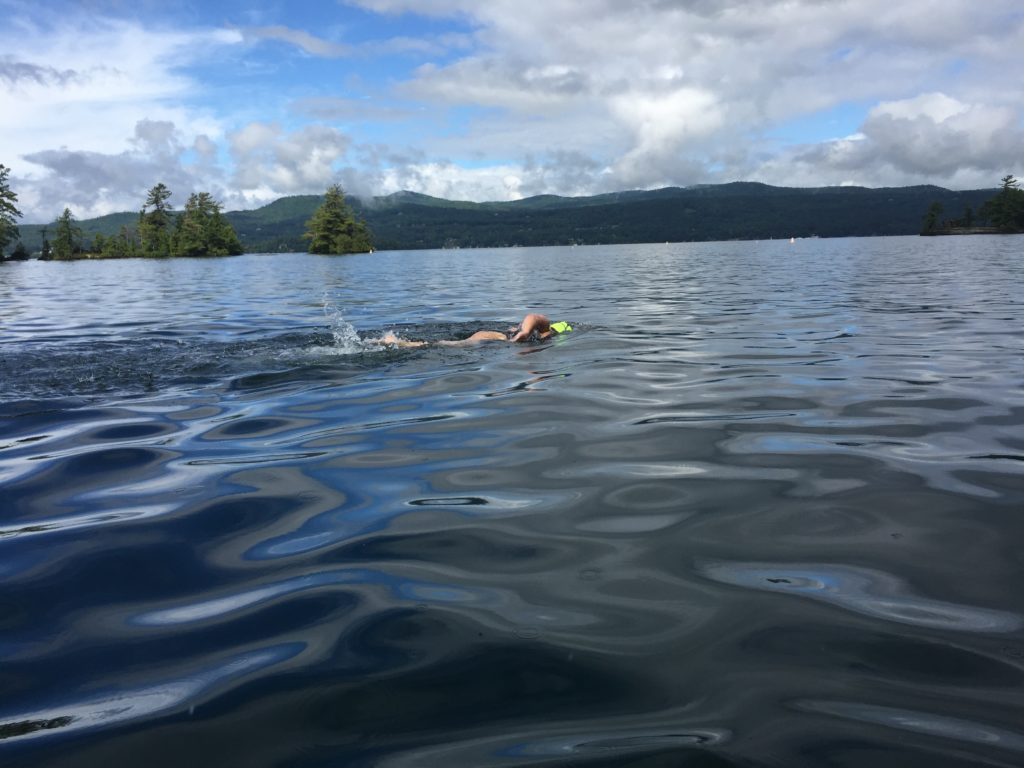 Almost anything can be a spiritual practice, if you let it. It's about the practice – the routine and prioritization of it, the days upon weeks turning into months of it – in the presence of an open spirit, willing to learn and be led. Molded, over time. Swimming is like this for me. I've written before about how swimming helps keep me focused on the present moment, and how flip turns are teaching me about energy, rest, and resilience.
Well, this summer I went swimming. A lot. A very few stormy days I swam inside at the gym, but most of the time I swam outside. I was a regular in the lone roped-off lap lane at our neighborhood pool, I practiced with a group in a lake in Richmond, and I competed in my first open water swim in another lake near Charlottesville. (And came in third in my age group. And got a medal. But who's keeping track?) When we visited family at another lake in New York, I recruited my husband to kayak alongside me as I swam so boats wouldn't run me over. In South Carolina, I swam in the bathwater warm ocean, but the best swims were in the outdoor lap-swimming-only pool that was cooled. (Yes, they "air conditioned" the pool and it was so scrumptious I don't really care how non-environmental that may sound.)
To throw yourself into something you love is, simply, delicious. Giving yourself over to its rhythms and routines, watching yourself with curiosity to see where the love will unfold and take you. Allowing yourself to be unreasonable and devoted, depleted and good-tired. This is what I did this summer, when there were very few rules and obligations, the expansiveness of summertime and sabbatical overlapping. I absolutely organized my days around my swims.
And it was worth it.
Part of what sustained spiritual practice teaches you is how much you need it. I am not the same swimmer I was in May. I am not entirely the same person.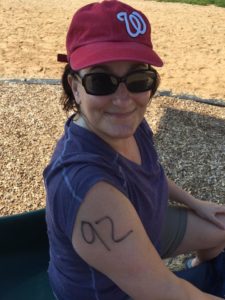 It may surprise you, but the open water swim was not the most daunting thing I did this summer. It was the open water practice swim I joined a couple weeks before that in Richmond. I had to drive over an hour away to a place I didn't know, to meet up with people I didn't know, to try out swimming in a body of water I'd never seen, while wearing my bathing suit in front of complete strangers. Buttons were pushed. I almost bailed. I woke up that day feeling nervous about it, uncertain about whether I could keep up, whether I'd be able to site the buoys, how thin and athletic all the other swimmers would likely be. I wasn't sure I'd even like open water swimming, so wasn't this kind of a waste of time and money?
I talked myself down. I recognized all those demons and agreed they could even be right. And I agreed to go to this one practice session anyway and just see. If I hated it, fine, no obligation to continue or do other open water swims after that. But I was not going to bail based on fear, anxiety, lack of confidence, and what ifs. (During the academic year, it would have been much easier to bail. The time and money concern trolls would have had a lot more sway if that evening's jaunt to Richmond had been sandwiched in between meetings and a buzzing phone.)
I was glad I went. Not everyone there was athletic and skinny. I was not the slowest. I loved it when we swam straight out into the middle of the lake to make a loop around an instructor standing on a paddle board. I loved it even more when the complete stranger I got paired up with said to me after one lap, "You go first and don't worry about me. I could barely keep up with you."
Spiritual practice involves repetition and new territory, ritual and change.
I was never particularly worried that I might have drowned, but when I heard Lucy Kaplansky's "Swimming Song" for the first time late this summer, I recognized my own bravery and playful pride, swimming my way up and down the waters of the east coast. Kaplansky sings, "This summer I went swimming. This summer I might have drowned, but I held my breath, and I kicked my feet, and I moved my arms around." Sounds simple and it kind of is, but simple can also be hard.
Spiritual practice takes trust and bravery, allowing yourself to be held up by something you are participating with but that's not you. This is also one of the "tricks" to open water swimming, especially when you get scared or unnerved by the vastness and the murky depths. The key is to remember, "The water wants to hold you up."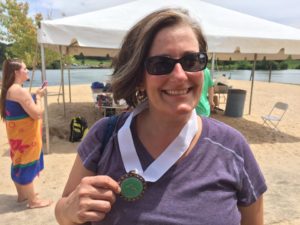 Today the cicadas are singing summer towards the door. We are experiencing an unusually temperate and humidity-free start to the week and we got to open up the windows again yesterday. It won't last long. By Friday it will be sweltering, but that won't last long either. Fall is on the way.
I'll get in a few more swims in the neighborhood pool before it closes for the season. And I have designs on a quarry, where a new friend swims as late into the fall as she can. I've started wondering about open water swims for next year. In the meantime, after a summer of peripatetic swimming, I will log a lot of miles in the gym, same place each day, but never the same "river"—or swimmer – twice.
*
Photo credit: Photos ©2016 by Woody Sherman. Used with permission.