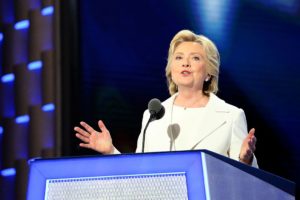 The first time I heard of Hillary Rodham Clinton was a mention in the pages of Ms. magazine, which I got delivered to my P.O. box in a small Appalachian town with one flashing yellow traffic light. In the pre-internet days, subscribing to Ms. was one of the ways I kept up with news beyond the county where I lived. During the primaries for the presidential election of 1992 there was a two-page spread on all of the candidates, a chart listing accomplishments, offices held, positions on certain issues, and, way over in the final column of the chart, room for additional comments. In that last column on Bill Clinton's row it said that one of the best aspects of a Clinton presidency would be his amazing wife, Hillary, and listed some of her accomplishments. I took notice and, obviously, never forgot that last nugget of info in that last column.
This summer during the Democratic National Convention, I was vacationing with my family, celebrating my parents' 50th wedding anniversary. We had an unspoken and amicable agreement not to watch the partisan news networks while we were all together, so I retreated to our bedroom early on the night of Hillary Clinton's acceptance speech so I could watch it live. She shone in her white suffragette-inspired (pant)suit and she knocked it out of the park. The next morning I got up and drove to the pool to swim laps, thinking the whole time I was swimming that it was a different world from the day before. Now, it's real. A woman is the candidate for a major political party.
I have hated this election as much as the next person, though I don't agree that the candidates (plural) have been the most antagonistic and mean-spirited ever. One of them has been, while the other has persevered and persisted and taken the high road and continued being one of the most qualified presidential candidates we have ever had. I know we are a deeply divided nation with old festering wounds we need to irrigate and re-dress and heal. It feels like there is a lot at stake because there is a lot at stake. Many of us are waking up to the realities we have been a part of our whole lives and reconsidering our history of racial injustice. Agencies and systems and the status quo, which we thought were fair and just, are being exposed, shown to be infected with the same disease in need of the same healing. It's painful and confusing. The way forward will be awkward and painful, as healing is. It is hard to ask for forgiveness and to grant it.
I know everything does not change overnight when a new name is next to "President." Ask Barack Obama. But then ask him again, because part of how we have gotten this far – into the painful and messy spot of owning up to the past and trying to build a better future together for all of us – is because of him. It's because of what and who he represents and it's because of how he has conducted himself in office – thoughtful, centered, undeterred, kind, generous, hopeful.
One of the things I remember my dad saying over and over to me as I was growing up was, "You can be the first female president of the United States, if you want to." I never wanted to, but that continual, unflinching, unreserved vote of confidence from my dad was like a beautiful and important vein through my childhood (and beyond), supplying me with the encouragement I didn't always know I needed to feel confident and grounded and safe and appreciated and valued. Seen. (Contrast this to Barbara Kingsolver's adolescent conversations on the topic with her father.)
By the statistics and demographics, this would seem an unlikely way for me to grow up, being raised as I was in the seventies by a Southern, white father who grew up a poor farmer and was the first in his family to attend and graduate from college.
Careful how you lump folks together, especially when you think you have "them" all figured out. Not all Republicans (if there are any real ones left) and not all Trump supporters are raging misogynistic racists. This doesn't excuse those who are, nor does it excuse their candidate, who is both. But it is to say that people are complex and beautiful – especially when you don't understand what makes them tick. It is to say that we are a country full of neighbors and we need to act like it again, no matter how we voted. Most of us want things to get better in our country – and most of us need help seeing how, from another's perspective, "better" might look different than we at first imagine. There will be ample time and opportunity to work on this kind of love for our neighbors in the aftermath of this election.
But today.
Today, the little girl in me who never wanted to be president but always knew she could be voted for the woman who has endured and persevered in order to serve her neighbors in our country's highest office. Today I voted for the first female president of the United States of America, eight (and four) years after I voted for the first Black president. I did not choose "the lesser of two evils." I chose the woman I have been following since 1992, the woman who's been working for a better country for even longer, the United Methodist who clearly lives out her faith in her life of service. I enthusiastically, joyfully, unapologetically, historically chose Hillary Clinton, the absolute best candidate for the job. I voted and then I went to the pool to swim laps, like I do every day and not at all like any other day.
*
Photo credit: By Ali Shaker/VOA [Public domain], via Wikimedia Commons