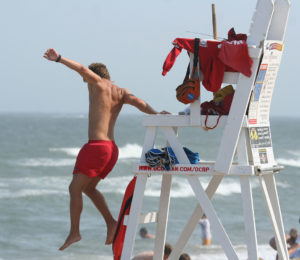 As I've mentioned, I'm determined to keep up my physical-mental-spiritual-emotional practice of swimming my butt off this winter. As I've also mentioned, I've had to make special arrangements to swim while out of town for work, something I often do with the help of this handy guide for finding a pool wherever you might find yourself.
In both January and February I spent most of a week in Richmond, and I've swum at the Weinstein Jewish Community Center each time. I didn't grow up in towns with JCCs and had never been to one before my first January swim there. I asked my friend Jake if there were any cultural things I should know about being a good guest in the space and he patiently explained it would be pretty much like using the YMCA – not everyone at a JCC is necessarily Jewish and I wouldn't stand out immediately as the obvious Christian in the mix.
From the membership coordinator I spoke with on the phone to set up my guest pass, to the front desk guy ready with a "Good morning" and a dry wit, to the concierge-style lifeguard, this is a place that does hospitality well. And I'm not kidding about Pete the lifeguard. He greets each swimmer by name when they enter the pool deck (he knew mine by the second day and remembered me when I showed up again in February) and gets off his chair to assist swimmers adding into lanes when they are all full. Seriously, he motioned and directed me to my lane, as he walked over to the swimmer already in the lane, saying, "I'll let him know you're joining him," and then he tapped the other swimmer as he approached the wall to let him know he'd have company. It was like being shown to my table at a fine restaurant. It wasn't, strictly speaking, necessary, since swimmers mostly work these things out on their own. But it was oddly nice – especially standing there, vulnerable, in only a swimsuit and my weak-prescription goggles – to be treated like a valued member of the pool community and offered a particular place within it.
"Love your neighbor" has resonated more than any other goal or descriptor of our life and ministry at Wesley this year. Not because we are doing it well all the time, but because we don't know a better way to respond to hate and xenophobia than with this simple, all-encompassing, daily reminder from Jesus (Matthew 22: 36-40). I'm here to tell you that being welcomed as a guest, greeted by name, and offered a place in the pool is a fantastic embodiment of loving one's neighbor.
In the first weeks of the New Year, before I swam at the WJCC the first time, a rash of bomb threats began at JCCs around the country. They are still happening. The first day I navigated my way to the unfamiliar pool in January, in the dark early morning on nearly empty streets, a pick up truck followed closely behind me for several blocks before I arrived. It went its own way before I got there but in this time of threat and hate, I noticed and briefly worried. By my February visit, I'd seen news reports of JCCs being evacuated during bomb threats, and I considered what to have ready in my poolside bag in case we had to evacuate in the middle of my swim. I didn't consider not going.
This past week, the lobby was full of preparations for Purim celebrations, the Hamantaschen-laden holiday when Esther's story is remembered and humorously re-enacted. It's a short book and worth the read, if you don't know it or if it's been a while. Esther ends up in a position to make her voice heard and influence a king. She needs a little convincing that sticking her neck out is worth the risk. She's told her silence won't guarantee her safety and, "Who knows? Perhaps you have come to royal dignity for just such a time as this?" (Esther 4: 12-14).
My neighbor-loving neighbors at the WJCC know how to stick their necks out. Given the national climate and current threats, I wouldn't have been surprised or angry if they had closed ranks and temporarily stopped offering guest passes to unknown non-JCC members just passing through town. But they know Whose and who they are, and what they have to offer at just such a time as this.
Frankly, even if the Swimmers Guide showed me a closer pool somewhere else, I'd choose to keep going back to the WJCC when I visit Richmond for work. Not just for laps or for the kind and gracious lifeguard, but because these are my neighbors.
*
photo credit: "Lifeguard jumping into action in Ocean City, Maryland," © 2007 by flickr user dbking, CC BY 2.0, via Wikimedia Commons