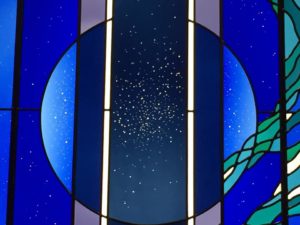 My grandmother told me more than once that I needed to have more patience. I hated it when she said this. It seemed like a cruel test adults imposed on children who really, really wanted something and couldn't wait any longer. I remember clearly the first time she said it to me, standing in her kitchen with the windows facing west to the road winding up the hill and out of sight beyond the trees. We were cooking together but my mind was on whatever was next. I don't remember anymore if it was a trip to visit someone or if I was simply ready for the cooking to be done so we could eat the results. It seems like I was holding a wooden spoon at the time.
She wasn't exasperated with me. It was a simple statement, something she noticed and was offering so I could attend to it, like pointing out an untied shoelace. She may have even said it this way, "You need to learn patience," recognizing in the suggestion itself that it is a practice that will take time.
When my grandmother first brought it up, I understood she meant I needed to wait more politely. My focus was on the reward that was coming and patience seemed to be the decorum required en route. It took substantial amounts of energy but it still seemed largely passive. Bide your time; wait it out.
That's what I thought then and since my southern grandmother also said things like, "Pretty is as pretty does," she probably did mean it that way, at least on some level. But she knew more than this about waiting. She was valedictorian of her high school class at 16 and desperately wanted to go to college but her father didn't think it was appropriate for girls. So she kept working on the farm with her family and waited for her life to go in another direction. She married my grandfather at 17 and started having babies at 19. That sounds young and so fast to me now but I wonder how patient she was, waiting for the unknown future as she longed for what she couldn't have.
My suburban upper-middle-class upbringing had its own versions of expectant time. Study abroad was a formative one, the semester I struck out on my own for France, pre-internet. I was only able to call my parents three or four times the whole semester. My main mode of communication with friends and family back home was through letters squeezed onto every inch of the blue, striped aerogram paper that folded up into its own envelope. I was homesick and spent copious amounts of time in coffee shops writing home while gazing out the window and sipping a café crème. I'm sure if we'd had email or cell phones or social media I would have checked in incessantly and in real time, as today's study abroad students do.
Like that day cooking in the kitchen with my grandmother, during the space of that semester I was often focused on what would happen next, when I got home. What would fourth year be like? Would the guy I liked when I left still be around when I returned? I wish I could say I was fully present in France and waited until I got home to think about home, but it's not true. I was impatient to see my friends and family again.
Yet that semester was not all about thinking ahead to what came next. Amidst homesickness and my impatient tendencies, I also experienced a companionable presence. The time itself was like a character in what was happening to me as I became a world traveler, explored other cultures, learned to be on my own. Passing through those months, I was aware I was between things, in a space both large (scary) and generous (intriguing). I let things unfurl. I was not in a position to manage them.
There are some things I have to learn over and over.
I find myself, this tension-bursting year, longing for a less tension-filled Advent. Can't this be the season of quiet manger scenes and soft snowfalls and small epiphanies about the perfect gift for so-and-so? Must there be bridesmaids with no oil and locust-eating weirdos in the dessert? Must it take so long between the already and the not yet of God reconciling the whole world to Godself? This year, especially, I don't want to wait out Advent to get to Christmas.
"You need to learn patience."
I don't get a say in the waiting but I do get to determine how passively or actively I wait.
It occurs to me that time can do a certain amount of healing all on its own. Just making it through counts for something. But our active, anticipatory waiting is less like biding that time and more like physical therapy. It hurts, it sucks sometimes, and there is every temptation in the world to not engage – but doing physical therapy while you are healing leads to more healing. And the use of that arm again. What's happening in this kind of physical-therapy-Advent-waiting space? I look around at the world and I want to warn God off. But it's this world that God loves so much She decided to live in it, in our skin for a while. Are we paying attention?
Almost 40 years have passed since I held that wooden spoon and received my grandmother's wisdom. I'm still learning to be patient. If I were cooking with my Goddaughter in the kitchen I'd ask her what she's been noticing. I'd have her describe it to me. I'd talk to her about how it feels to want something that isn't here yet. I'd ask her where God is in the waiting—what does God do when waiting? I'd brainstorm with her about what we do in the meantime. Then we might take our brownies and sit by the window, watch snow fall, and, after a while, bundle up and walk out into it.