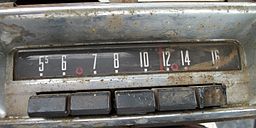 [This summer's Traveling Companions is a relaxed blog series telling stories about and highlighting songs/albums/artists that have accompanied me along the way. This is the fourth in the series; other posts are here, here and here.]
This was not part of the plan when I started this series. I mean, Jackson freakin' Browne is still waiting his turn. Or I could go Van Morrison next, or Sara Bareilles. But last Friday a totally un-August-in-Virginia day befell us – upper 70s and not a lick of humidity. I cannot stress enough how unlikely this was.
I had an errand to run down the road in our county and my hair was still wet from the morning's swim. The day was so gorgeous, just driving through it wasn't enough, so I opened the windows and let the wind do its worst, tangles be damned.  I found the local classic rock station, the same one whose station promo, back when I was in college, was "lock it in and rip the knob off."
It's been a while since my hair was long enough to whip in the wind. As soon as I picked up speed on the curvy road I felt like the students moving into their dorms this week – young, free, invincible, like the road was opening up before me into possibility and promise.  Not just the road.  The Road.  It's the way I've always felt when the air kisses my skin just so and the wind whips my hair and the radio's up loud enough to hear over that noise.
I wondered as the feeling washed over me if this is the way I'd always feel, in a car with the windows open and good tunes on the radio.  When I'm 85 will those sensations still combine to fool me into a carefree younger-than-I-am moment?  When I used to look over at my white-haired, arthritic, sun-spotted grandmother, driving the truck to town with the windows down when we'd visit in the summers, is this how she felt?  When I saw a comfortable, soft, old woman was she feeling The Road and existing as a young girl in her own mind?
This is really the kind of thing my mind does.
Anyway, Bon Jovi's "Wanted Dead or Alive" came on in the car last Friday. I can still remember the black and white grainy MTV video and the intense longing the song, the band, and the sight of Jon Bon Jovi's hair brought out of me at a certain point in life. For a while, I had a picture of Jon, cut from a magazine and taped to the visor in my car, so I'd see it any time the sun was in my eyes.  My friend Katie and I would flip it down even on rainy days, because sometimes you just need to see something beautiful.  Eventually I became embarrassed about my visor and my interest in Bon Jovi and started listening to other things, but last week in the car I let my Bon Jovi freak flag fly unapologetically, singing along at full volume.
Like my own personal "this is your life" tour of college days, the next tune up was "Hard to Handle" by The Black Crowes. Every time I hear it I'm transported to a certain stretch of Interstate 64, heading east from Richmond, the place where we were when my friend Molly called it the "Sahanahanaha" song, which, you have to admit, is exactly how it sounds when they sing it.  (Go on, listen and you'll hear it.)
I almost waited until I could get it together to write about Jackson Browne.  I mean, I don't even own any Black Crowes or Bon Jovi anymore.
But this summer I've been writing about Traveling Companions and the best of them are the ones who, despite the odds, are still accompanying you, even when you no longer have their albums…even when you see each other more on Facebook than in real life.  The best traveling companions are the ones who awake in you someone you thought you'd let go of but who, you realize, you miss sometimes.  Maybe they can even still see your younger self when your grey hair is flying about in the wind.
*
photo credit: © 2014, Feddacheenee, CC BY-SA 3.0, via Wikimedia Commons